Icon Pack 1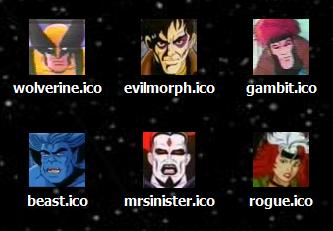 Featuring Wolverine, Beast, Evil Morph, Mr. Sinister, Gambit, and Rogue.
---
Icon Pack 2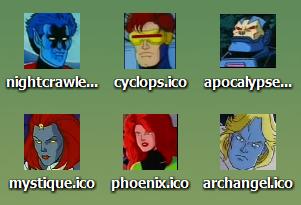 Featuring Nightcrawler, Mystique, Cyclops, Phoenix, Apocalypse, and Archangel.
---
Icon Pack 3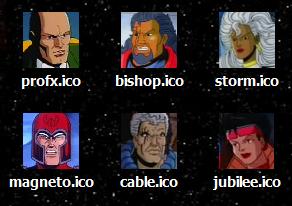 Featuring Professor X, Magneto, Bishop, Cable, Storm, and Jubilee.
---
Icon Pack 4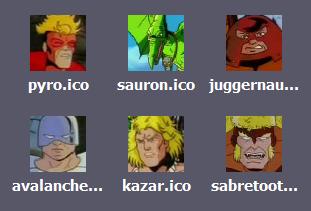 Featuring Pyro, Avalanche, Sauron, Kazar, Juggernaut, and Sabretooth.
---
Icon Pack 5
Featuring Colossus, Iceman, Banshee, Erik the Red, Lady Deathstrike, and Fabian Cortez.
---
Icon Pack 6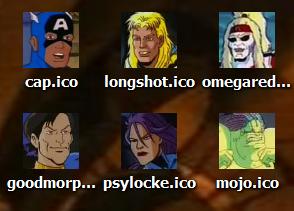 Featuring Captain America, Good Morph, Longshot, Psylocke, Omega Red, and Mojo.
---
Icon Pack 7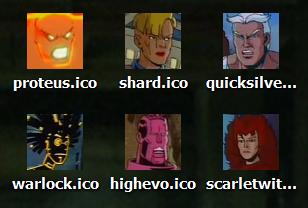 Featuring Proteus, Warlock, Shard, High Evolutionary, Quicksilver, and the Scarlet Witch.
---
This page is a part of DRG4's Marvel Cartoon Pages:

Featuring Spider-Man, X-Men, Fantastic Four, Iron Man, Incredible Hulk, and the Silver Surfer.
---