Spider-Man: An Animated Update
Written by Anya Martin
---
The Hobgoblin will appear before the Green Goblin. J. Jonah Jameson has become the head of a giant media conglomerate that includes the Daily Bugle, Now magazine, and a TV station. Peter Parker's college sweethearts are Mary Jane Watson and a pre-Black Cat Felicia Hardy, not Gwen Stacy. And Spider-Man will encounter Venom while he's still a student at Empire State University.
Peter Parker's comic book history is uncannily similar to, yet subtly different from the storyline of the new Spider-Man animated series set to debut with a sneak preview this November and to officially join FOX-TV's Saturday morning line-up in February. But as the premiere date looms close, the production team -- from Supervising Producer Bob Richardson to Producer/Story Editor John Semper to Art Director Dennis Venizelos to Co-Executive Producer Stan Lee -- promises that this time viewers will share the excitement of a Spider-Man true to all the elements that have made his Marvel Comics run so successful. Unlike past cartoon incarnations, there will be no cute sidekicks, and the plots will mirror the comics' storylines, with changes made to enhance the drama rather than satisfy the whims of network executives.
The goal, Semper stressed, is characters wiwth "depth," brought to life through ground-breaking 3-D digitalized animation techniques and the voices of such esteemed actors as Ed (Lou Grant) Asner as J. Jonah Jameson, Efrem (The FBI) Zimbalist, Jr., Joe Campanella as Dr. Curt Connors, Rue (Golden Girls) McClanahan as Mrs. Hardy, and Roscoe Lee (Logan's Run) Browne as The Kingpin.

Joe Campenella provides the voice of Dr. Curt Conners/The Lizard
"This is very true to the real Spider-Man," assured Stan Lee, who has been involved at every stage. "This is the best version of Spider-Man that I have seen, other than in the comic books themselves."
What makes this series different from past efforts is that Lee and company, under the auspices of Marvel Films, have retained creative control -- with the blessing of Margaret Loesch, president of the FOX Children's Network, who has contracted for 65 episodes to be produced in 13-episode packages. The series budget averages $400,000 per episode, symbolic of the strong committment Marvel and FOX are placing behind the series.
Indeed, to accomplish this goal, the show's major players describe their lives are literally moving from one deadline to the next, trying to go one step beyond X-Men and Batman: The Animated Series to create a first in Saturday morning animation -- a true animated action drama. "We want a mix between NYPD Blue and the Japanese animated features, where there is more of a live-action style, when it comes to cutting and staging," Richardson said. "It's a much more sophisticated kind of filming style."
To achieve a level of quality comparable to that seen in "Japanimation," Marvel Films has employed TMS (Tokyo Movie Shinsha), the company responsibile for animating Japan's popular long-running Lupin series, as well as such hit U.S. animated series as Batman and Tiny Toon Adventures. Storyboards, layouts, models, and character and scene designs are done in the United States under the supervision of Art Director Dennis Venizelos, Supervising Producer Bob Richardson, and a team of 30 experienced animators, some of whom, like Venizelos, are alumni of X-Men.
"They were going for a more comic book look on the X-Men show," he noted, adding that each is exciting to work on for different reasons. "Here, we're doing for more of a graphic realism look."
To obtain three-dimensional visuals, Marvel Films Animation is working with a computer animation effects studio called Kronos, located west of Pasadena. The plan is to make it seem as if Spider-Man is really moving through a photo-realistic version of New York City.
"The animation now coming out is a new generation," Venizelos added. "You can actually do 3-D fly-through scenes, and they will marry together [with traditional animation] to make it look like one piece. The animation will be handled the same way it always has been, but the backgrounds will be three-dimensional. Models are built on the computer -- designed, filed and color-coded. When Spider-Man is web-slinging his way through the city, we have the opportunity of having those buildings move and twist around as he bends around the corner. It'll be a much more realistic point of view."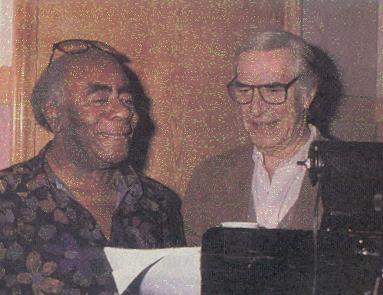 Roscoe Lee-Browne as the Kingpin, Martin Landau as The Scorpion
As crucial as the visuals are, the characters' voices had to be just as convincing. A key part of Richardson's job as supervising producer has been to coordinate the selection of the sound elements of the show, working closely with Co-Executive Producers Lee and Avi Arad.
"If you listen to the average Saturday morning cartoon and shut your eyes," Lee offered, "you know without looking that you're listening to a Saturday morning cartoon. They sound like cartoon characters. If you listen to the voices in the Spider-Man show and shut your eyes, you could be listening to the Hallmark Hall of Fame. We are trying to keep it very adult, very natural."
Christopher Daniel Barnes plays the role of Peter Parker/Spider-Man. Lee says, "He's not aggressive, not too forceful, but also not really shy. He's thoughtful, considerate -- the kind of guy any parents would wish their daughter would date. As Spider-Man, though, he has to come across a bit stronger, sharper, more forceful, and be a little more wise-cracking. We needed an actor who could go from one to the other effortlessly and smoothly."
Musicians to provide the soundtrack behind the action will include Joe Perry of Aerosmith, who is writing and performing the all-new theme song, and Saban Music (of The X-Men) is scoring the music for all the episodes.
Beyond the sound and vision, both Lee and Semper noted that bringing the series together requires constant consultation to make sure each story element is true to the comic book spirit. Semper supervises the process from the first conferences with writers at the Marvel Films office in Westwood right through to voiceover studio sessions across town at Screen Music in Studio City, where he can faciliate last-minute script tinkering.
Some plot changes have been made to guarantee smooth transition from comics to television and to create action and characters that can be appreciated both by Spider-Man's existing readership and by viewers discoverin the character for the first time. "The fact of the matter is that the Spider-Man universe was made up by many writers over different months and years, all serving an agenda that had to do with comic book sales at that moment during their regime," observed Semper, who has recently reread more than 100 issues of various Spider-Man titles. "It's not an overall work that anybody planned from beginning to end. It doesn't hang together always in a very sensible fashion. We've had to take 30 years worth of comics and somehow juggle them together in a way that will play coherently and cohesively. So it was okay to do Hobgoblin first. We reversed the original decision not to the Green Goblin -- he will be showing up in the second 13 [episodes]. We're doing it in a clever way so that nobody will be upset of The Hobgoblin comes first."
In the beginning, there was actually talk of using Peter Parker's college sweetheart from the comics, Gwen Stacy. Stan lee was concerned, though, that viewers would be disillusioned if they grew attached to the character and then discovered that she has been dead for more than 20 years. Throughout Peter Parker's life in the comic, however, he did date many more girls than Mary Jane, and while Semper admits an affection for Gwen, he felt it was important to create a new love interest to preserve that element in the TV series. Hence he decided to introduce one of Peter Parker's later comic book love interests, The Black Cat, when she was simply Felicia Hardy.

Jennifer Hale performs the voice of Felicia Hardy, Liz Georges voices Debra Whitman
"We wanted a strong, intelligent woman character who had a different background from Mary Jane," he noted. "We thought that Felicia Hardy would be a nice character to play off Peter. After all, we never had a rich girl in the Spider-Man universe. Plus, we did want to have some link to the comics. We know [so little] about Felicia's background. We don't know that she didn't go to Empire State University or that she wasn't rich."
Of course, there was the added bonus that someday Felicia would become The Black Cat, and one could follow the character's present exploits in her own recently launched Marvel limited series.w
With Daily Bugle publisher J. Jonah Jameson, Semper was concerned that the character could easily be reduced to comic relief -- in his words, "banging his fist on the table and screaming and yelling, 'Parker, where are the pictures?'" Thus, Jameson has become the head of a media conglomerate known as J-3 Communications.
While Semper has affection for all the episodes featuring classic villains such as Kingpni, The Scorpion, and the Lizard, he stated his favorite from the first season is probably the three-parter which introduces Venom. "There is a change in tone when Venom shows up because he is so powerful a villain," Semper said. "When I do a villain, I first think what it is -- not just about his powers but about the personality of the villain -- that makes him interesting. If you've got a character that brings interesting dramatic conflict into Peter Parker's world, then you have good drama and a good show. Here you've got the first villain who knows who Spider-Man really is. Our Venom is going to be Venom, and he's going to be the most unrelenting, most frightening foe that Peter Parker faces. This is going to be the dramatic high point of the first 13."
As for Carnage, he added, "we can't show all of our cards in the first season, but I think we'll see Carnage down the line. I'm not in any hurry, because we haven't fully exploited Venom yet, and there are plenty of other villains that we're going to be [calling] up."
And plenty of other Marvel super heroes. With the whole Marvel Universe available, Semper stressed that he wants to take full advantage of that potential in future storylines, though the only Marvel hero announced to be appearng in the first 13-episode season is Nick Fury, Agent of SHIELD. Semper's first goal, howerver, had to be establishing the character of Peter Parker, whom he compares to Hamlet and James Dean, and to keep the storylines close to the realistic drama that has always made Spider-Man the "Every Man" of heroes -- an average person who accidentally receives super powers and must decide how best to use them, yet is still worried about schoolwork, keeping his job, and that Saturday-night date. Remaining true to this key character quality, however, is a challenge in the animated medium, he admitted.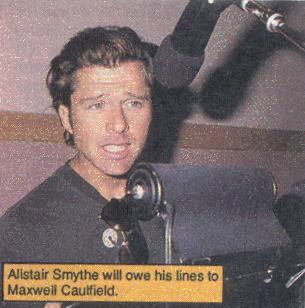 "One of the things that makes Spider-Man so special in the comic book is that you have this character doing tremendous amounts of thinking to himself," Semper said. "You walk through his world, looking thorugh his eyes, following his thoughts and watching how he reacts. This is extremely difficult to do in animation; with group shows, such as Fantastic Four and X-Men, you can have these characters talk to each other...It's much harder to write a character having lots of solo encounters with others. So when I say he's like Hamlet, I mean we are writing a Hamlet-style narrative. He solliloquizes a lot, he is melancholy and he wanders around wondering why this or that has to be."
Of course, the flip side of Spider-Man is his famous wisecracks, which Semper -- whose background includes much comedy-writing -- noted would definitely be a key part of the show. After all, Parker is not just a Hamlet-like loner, "he's sort of the David Letterman of super heroes, and he is constantly quipping. His whole way of dealing with difficulties in life is to let loose with a tremendous amount of humor."
He described a scene in which Spider-Man is thrown from a villain's flying craft and has run out of web bing. "He has to go through all sorts of twisting and turning and acrobatics, every trick he knows. He finally ends up dangling just inches from the metal spikes on a fence. That's a very dramatic situation. He looks and goes, 'Yeah, yeah, just the way I planned.'"
If Spider-Man saves himself through a canny combination of luck and skill, this crew bringing him to life seems determined to leave nothing to luck.
---
This page is a part of DRG4's Marvel Cartoon Pages:

Featuring Spider-Man, X-Men, Fantastic Four, Iron Man, Incredible Hulk, and the Silver Surfer.
---