Icon Pack 1
Featuring Spider-Man, Venom, Carnage, Kingpin, Daredevil, and John Semper.
---
Icon Pack 2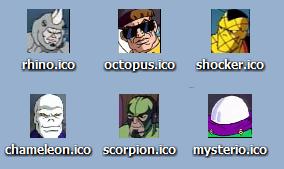 Featuring the Rhino, Dr. Octopus, The Shocker, The Chameleon, The Scorpion, and Mysterio.
---
Icon Pack 3
Featuring the Green Goblin, The Hobgoblin, Blade, The Vulture, Black Cat, and Morbius.
---
Icon Pack 4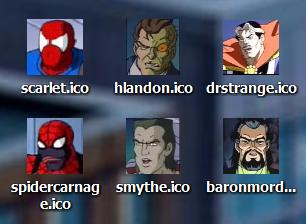 Featuring the Scarlet Spider, Spider-Carnage, Herbert Landon, Alistaire Smythe, Dr. Strange, and Baron Mordo.
---
Icon Pack 5
Featuring Hammerhead, Kraven the Hunter, Tombstone, Hydro-Man, The Lizard, and The Spot.
---
Icon Pack 6
Featuring Captain America, Armored Spider-Man, Iron Man, The Punisher, The Prowler, and Nick Fury.
---
Icon Pack 7
Featuring Peter Parker, Stan Lee, J. Jonah Jameson, Robbie Robertson, Electro, and the Red Skull.
---
Icon Pack 8
Featuring Mary Jane Watson, Aunt May, Debra Whitman, Flash Thompson, Harry Osborn, and Norman Osborn.
---
This page is a part of DRG4's Marvel Cartoon Pages:

Featuring Spider-Man, X-Men, Fantastic Four, Iron Man, Incredible Hulk, and the Silver Surfer.
---