DRG4's Marvel Cartoon Pages Presents:
An Interview with Lawrence Bayne
---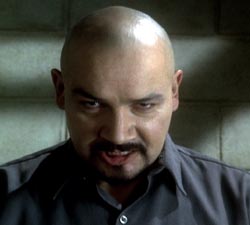 With a career running steadily since the late '80s, the odds are that you've either seen or heard Lawrence Bayne in a program other than X-Men. Most recently, he played Victor Pearson on the NBC Saturday-morning show Black Hole High, and he had a recurring role on The Famous Jett Jackson as Dr. Hypnoto. He has guest-starred on many of the popular syndicated television shows, such as Mutant X, Andromeda, and Honey, I Shrunk the Kids: The TV Show, to name a few. Voice work has included the cult-hit Gargoyles, Donkey Kong Country, and Highlander: The Animated Series. In terms of X-Men, Lawrence Bayne's voice brought a number of different characters to life. His main character was Cable, the X-Man from the future who was always gunning for Apocalypse. However, he also voiced Erik the Red during the PHOENIX SAGA episodes, as well as Captain America in the OLD SOLDIERS flashback episode. Read on to see what he has to say about his X-perience. Interview conducted Winter 2004-2005.
Special thanks to Lawrence Bayne's business manager for arranging the interview
---
QUESTION: In terms of the audition process, is it true that you were the runner-up for the voice of Wolverine?
LAWRENCE BAYNE: I was not a runner-up, I wasn't in a race. Cal Dodd is a friend and a colleague. A big band leader, singer, and actor with 0% bulls---. It was a privilege just to be at the audition with him. It meant I would probably have a career in animated voice - turns out, you work with talent like George, Cedric, Cal. And when you're not working you work at listening. You learn. Or you're gone. I'm still here.
Q: What was the audition process for Cable like? Is your Cable voice different from your regular voice?
LB: I avoid wordings like the audition process. It implies a uniformity, an audition is completely unpredictable. I don't have a regular voice.
Q: You did quite a number of primary voices in addition to Cable, such as Erik the Red and Captain America. Did you have to audition for each of these extra roles or did Dan Hennessey (the voice director) simply offer them to you?
LB: I think the world of Dan. But he never simply offered me or anyone a role. He would never jeopardize the quality of his work like that. He gave me those roles after a few years of working with one another. We got along famously, but I was still at work and my boss wanted that work to shine.
Q: Any interesting stories from the recording sessions? Were they usually with the cast or just sessions by yourself?
LB: The sessions were funny, and I mean ALL kinds of funny. Sometimes it was ladies and gentlemen and sometimes it was cats and dogs. A studio is a very intimate place, and actors are by nature, somewhat gregarious. I never laughed harder, but I can't seem to think of one thing to share.
Q: Did you ever adlib anything that got into the show?
LB: There was no ad-libbing on X-MEN.
Q: Did you think "X-Men" was going to be the monster hit that it became?
LB: I was still working on it when it blew up the way it did. It should have meant something more to me if it's success had reflected in my paycheck.
Q: Do you have a favorite episode/storyline? A least favorite?
LB: I don't look at my work in those terms.
Q: Were there any last-minute dubbing issues that you had to deal with before any of the shows got on the air?
LB: No last minute dubs. The operation was smoothly run and the rest.
Q: There was talk of an X-Force spin-off, which would have featured Cable as the team leader. Did you ever hear anything about this?
LB: I never heard of X-Force, of course I would have done it if I'd been asked.
Q: Some voice actors complain about the quality of the scripts or how mediocre animation ruins their performances. Did you think any of these in terms of your "X-Men" experience?
LB: You say some voice actors complain about quality of script or animation ruining their performance? Which ones? Who are your sources? [DRG4's Note: I've read a few articles where voice actors have made some complaints. One that stands out featured Patrick Warbuton, the voice of Buzz Lightyear on the "Buzz Lightyear" television show.]
Q: Would you be eager to reprise your role(s) if the show was ever brought back in some capacity? (Such as a direct-to-video movie, a video game in the show's continuity, etc.)
LB: I don't "reprise roles." I "get jobs." Gotcha!
Q: You also voiced a character called Zedaro on the short-lived "Silver Surfer" cartoon. Do you have any reflections on that? Many people thought that the show would be the next "X-Men," but it only lasted for a single season.
LB: I hereby categorically and for the record swear that I did NOT voice Zedaro. I saw it appear on the net and I keep seeing it in new sites as part of my C/V, but no, not me.
Q: Have any upcoming projects that you want to plug? Anything else you'd like to add?
LB: I have no projects. I would add nothing. Thank you.
---
This page is a part of DRG4's Marvel Cartoon Pages:

Featuring Spider-Man, X-Men, Fantastic Four, Iron Man, Incredible Hulk, and the Silver Surfer.
---