Buy Iron Man Stuff
---
Click on the link to see the information on the item (how much it costs, and etc.), and then you can order it from AMAZON.COM.
---
Iron Man: The Origin of Iron Man VHS

Contains the two-part origin episode from season 1.
---
Iron Man 1960s Cartoon VHS
Contains the episodes Death of Stark and Crimson Dynamo from the classic series.
---
The Essential Iron Man TPB
Contains lots of the original 1960s Iron Man issues in one 512 page volume.
---
Iron Man Game Boy Advance game
A new Game Boy Advance game starring Iron Man and all his foes.
---
Iron Man/X-O Manowar Playstation 1 game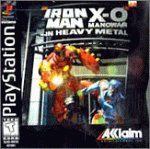 Metal titans Iron Man and X-O Manowar come together for the first time ever to tackle one heavy duty cosmic crisis. It's an apocalyptic meltdown of furious fighting action with the ultimate in superhero power and realism.
---
This page is a part of DRG4's Marvel Cartoon Pages:

Featuring Spider-Man, X-Men, Fantastic Four, Iron Man, Incredible Hulk, and the Silver Surfer.
---