Icon Pack 1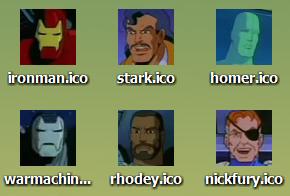 Featuring Iron Man, War Machine, Tony Stark, Jim Rhodes, H.O.M.E.R., and Nick Fury.
---
Icon Pack 2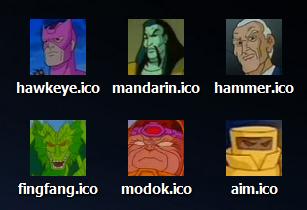 Featuring Hawkeye, Fing Fang Foom, the Mandarin, MODOK, Justin Hammer, and an AIM agent.
---
Icon Pack 3
Featuring Hypnotia, Whirlwind, Grey Gargoyle, Dreadknight, Whiplash, and Blizzard.
---
This page is a part of DRG4's Marvel Cartoon Pages:

Featuring Spider-Man, X-Men, Fantastic Four, Iron Man, Incredible Hulk, and the Silver Surfer.
---