Behind The Scenes of Fantastic Four
---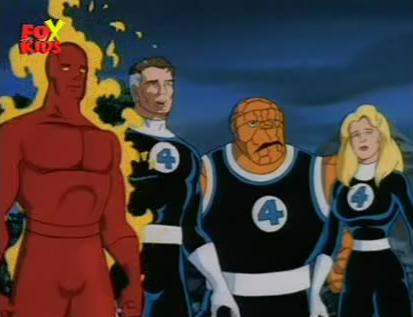 Ridiculed by the FANTASTIC FOUR comic book



Tom DeFalco, writer of the FANTASTIC FOUR comic book while the show was in production, wrote a scene that ridiculed the show in FANTASTIC FOUR (Volume 1) # 396. He later got in BIG trouble for it. Check out the offending page at the link above.

Interview with Neil Ross



Neil Ross provided the voices of the Puppet Master, Krang, Super Skrull, Dr. Doom (in the first season), and others. Read about the audition process and his reflections on working on the show. From November 2004.
Fantastic Four Model Sheets

A quote from producer Ron Friedman and model sheets of the Fantasti-Car.
Behind the Scenes of the Marvel Action Hour

A LONG article revealing production info about the show. Features many exclusive pictures.
The Creative Forces Behind the Marvel Action Hour

A profile of the men who brought the Marvel Action Hour to life.
Stan Lee Talks About the Marvel Action Hour

Stan Lee talks about the Marvel Action Hour.
---
This page is a part of DRG4's Marvel Cartoon Pages:

Featuring Spider-Man, X-Men, Fantastic Four, Iron Man, Incredible Hulk, and the Silver Surfer.
---