Icon Pack 1
Featuring Mr. Fantastic, The Invisible Woman, Human Torch, The Thing, Dr. Doom, and Mole Man.
---
Icon Pack 2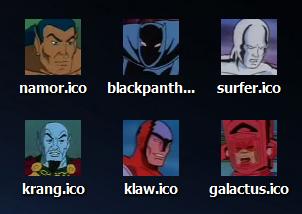 Featuring the Sub-Mariner, Krang, the Black Panther, Klaw, Silver Surfer, and Galactus.
---
Icon Pack 3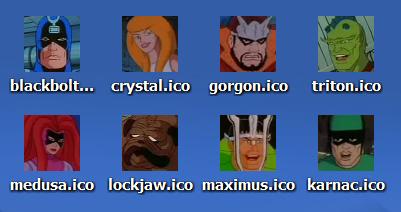 Featuring Black Bolt, Medusa, Crystal, Lockjaw, Gorgon, Maximus, Triton, and Karnak.
---
Icon Pack 4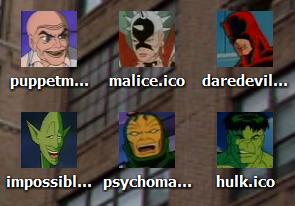 Featuring the Puppet Master, the Impossible Man, Malice, Psycho-Man, Daredevil, and the Incredible Hulk.
---
This page is a part of DRG4's Marvel Cartoon Pages:

Featuring Spider-Man, X-Men, Fantastic Four, Iron Man, Incredible Hulk, and the Silver Surfer.
---